SNGA Executive Board Members Earn Top PGA Awards
Andrew Bednar and Karl Larcom both admitted they are in the golf business because they love the game. Period. They aren't in the sport looking for accolades. But both men, who are on the SNGA Executive Board, have been honored with PGA of America, Southwest Section, Southern Nevada Chapter awards. –Bill Bowman, Las Vegas Golf Insider staff
Bednar, Sales Professional-Southern Nevada for TravisMathew Apparel, was named the Sales Representative of the Year.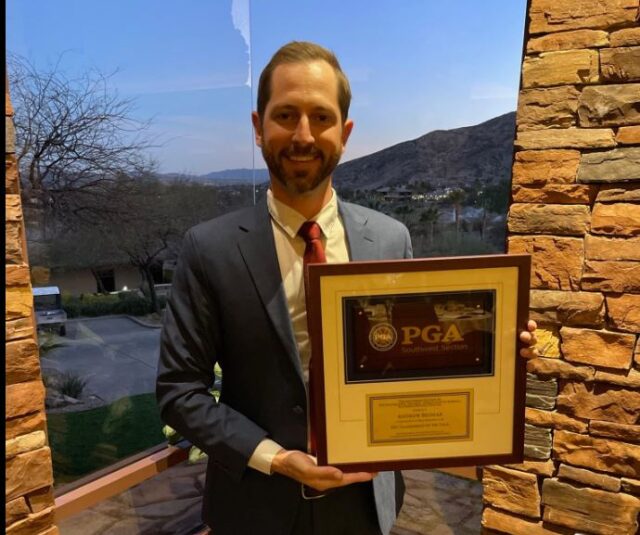 Larcom, the Director of Golf at Coyote Springs, was honored with the Bill Strausbaugh Award which recognizes professionals who distinguish themselves by mentoring their fellow PGA professionals and through their service to the golf community.
"Coming from the other side of the counter, my goal was to always provide great service and customer care," said Bednar, who was with The Revere Golf Club for seven years before moving to Travis Mathew five years ago. "This award shows my game plan going into this is working and I'm making a positive impact."
Larcom, who has been the Director of Golf at Coyote Springs for 12 years as well as on the SNGA's board for three years, also was surprised by the honor.
"I am so flattered to win this award," said Larcom who has won the honor twice. "I'm not here to win awards but the feeling inside is just immense gratitude to my peers for awarding me this."
Larcom, who is the current president of the Southern Nevada Chapter of the Southwest PGA, added being on the SNGA board is an honor he doesn't take lightly.
"It is awesome working with the SNGA board," Larcom said. "We all have the common goal of growing the game of golf in Southern Nevada and trying to come up with ideas that will spark people into playing golf or playing more golf."
While both hold down full-time jobs, they realize they play a vital role in Southern Nevada golf serving with the SNGA.
"I wanted to get on a board and see how I can impact future generations of golfers," Bednar said. "I was excited to be elected."
He added he also has a game plan for his endeavor.
"I just want to come up with ideas," he said. "I might have an idea or see something different. I'm just trying to see outside the box. The golf world is changing and I'm just hoping to add my take to it."
Overall, Bednar said the SNGA Executive Board is an impressive group.
"This is just a great team," he said. "There are a lot of great people involved and everyone is so passionate about Southern Nevada golf. They all put everything out there and bring great ideas to the table. It's been amazing."
Larcom said golfers need to really think about all the effort that goes into making golf a success in Southern Nevada.
"There are so many people behind the scenes in the golf industry to create all of the good that is going on in the sport in Southern Nevada," Larcom said. "From the Shriners and the PGA Tour to the golf courses, there are so many different people on so many different levels who have a passionate love of the sport who are trying to grow it and make it bigger and better."